3. Boy Scout Tree Trail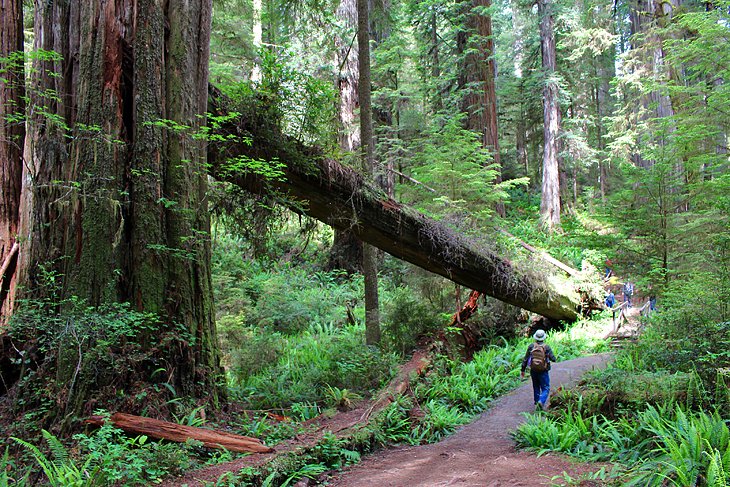 Located in Jedediah Smith Redwoods State Park, the Boy Scout Tree Trail is a 5.5-mile round-trip, out-and-back hike through pristine old-growth redwood forest. Unlike Cathedral Tree Trail loop, which parallels the highway for portions of the hike, this trail runs deep into the woods, far from any traffic noise. The trail has elevation gain, but the hills offer a unique perspective and provide a closer look at the canopy in some areas. A partially suspended fallen tree near the start is a popular photo spot.
The largest concentration of the old redwoods is closest to the start of the hike. Huge trees at the end are more dispersed. Keep in mind, this trail is more about the journey than the destination, with a variety of different environments as you progress up a ridge and then down into a valley. Some sections are almost pure redwoods, other sections are mixed forest. Near the far end of the trail is a spur that takes you to the actual Boy Scout Tree, a huge double tree, given its name by a local troop leader, who first discovered it. If you are not up for the full hike, you can walk in as far as you like and turn back, and you will still be satisfied.
The trailhead is found along Howland Hill Road, a dirt road that narrowly dodges its way around giant redwoods and is almost as interesting as the hike itself. A small roadside parking pullout area, which only accommodates about ten or twelve cars, is the location of the trailhead. Watch for other parked cars because the signposting is limited.