Arches National Park is one of the highlights of Utah, with its incredible landscape of arches, unique rock formations, dramatic cliffs walls, and the huge La Sal Mountains in the distance. The drive through the park is stunning, and many of the most impressive sights stand just off the road. Short walks provide easy access to many of the arches, and longer hiking trails can get you further off the main trails and into some incredible scenery. If you only have time to drive through the park, the Windows section is one of the most impressive areas. The Delicate Arch Hike is one of the most popular things to do in the park. With a full day or two to explore Arches, it's possible to see all of the main tourist attractions and hike at least one or two of the longer hiking trails, including Delicate Arch, Fiery Furnace, and the Devil's Garden.
1. Delicate Arch Hike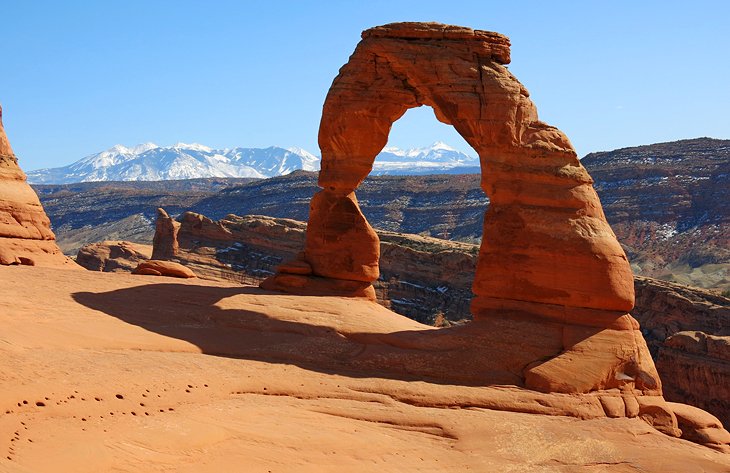 Delicate Arch is the most photographed and most unique arch in the park. Rather than just a window in the side of a rock wall, this free standing arch rises from the ground and frames the beautiful landscape in the distance. For close up views, you will have to hike to the arch, but you can also get a glimpse of it from a distance at the Delicate Arch Viewpoint on the road that runs below the arch.
The hike to delicate arch is three miles round-trip, with most of the hike over slickrock. This is in full sun and can be very hot on sunny days. As you get closer to the arch, the trail turns into a path that runs along a ledge hugging a wall, with a sharp drop off on the outer edge. This path curves around and opens up into a fantastic view of the arch. You can wander up to and around the arch before returning along the same route.